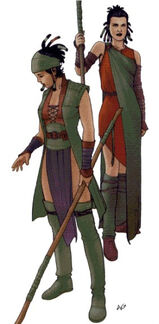 Paecian
was the language of the
Paecian Empire
, and has remained as the official language of the
Witches of Dathomir
. While Dathomirians today use Galactic Basic and other languages, their primary one is this very same. This list serves as a dictonary for all all those that either originate from Dathomir, Ferro or Sognoterra, or have learned the language.
a'oh - watch out
agli - to return
ahoappa - wheat
ai - yes
aki'cita - peacekeepers
Allya'nee hi'jan - the Daughters of Allya
Allya tanan kici un - may Allya bless you
amba - goodbye
an'petu kin - the day
ana'po - the dawn
anho - to count
coup ate - father
awi - they
cetan'nagin - shadow hawk
Chaka dee Wakpa - the Powder river
chata'winna - left-handed woman
ciye - my brother (a man's brother)
cola - friend
colapi - friends
dho! - an exclamation
dopa - four
Eta'ma Gozua - Rain-in-the-Face
He'ay'hee'ee! - a call to the Ancients
Hecheto aloe - it is finished
Hecheto welo - it is done well/ it is good
hi'ja (n) - my daughter (s)
hoka hey - pay attention!
hoppo! - let's go!
Huhn - kill cry
Hun'kaschila - young man
Hun'tka - god of the east
Ik'tomi - trickster spirit
inipi - purification rite/sweat bath
Jai – Jedi (also a male witch when not in the vernacular sense of the word)
katiyimo - enchanted mesa
kik'suyapi - don't forget/remember
kola - friend (same as cola)
le'mita - mine
le'mita cola - my friend
le'mita pila - my thanks
leksi - uncle
lela - very
oosni - very cold
liat! – you are mine
loca – crazy
Luna'i-wi - the moon
luta - red
Ma'tra – Clan Mother
Mae - I
mah'pyua - cloud
Mah'pyua Luta - Red Cloud
maka – land
maka'mani - walk on foot
Maka'Sichu - Bad Lands
mani - walking
mato - bear
maya o'wicha paka- fate/ he who pushes you off a cliff
maza - metal
maza canku - iron
maza chante - armor (metal heart)
maza' ska - silver
mi - me
mi'caje - my name is
Mie'yebo - I am
mila - knife
mila hanska - long knives
minne - water
minne sosa - muddy waters
minne' sota - many waters
minne'wakan – Liquor
mita kuye ayasin - we are relatives
mita'wa- mine
mita'win - my wife/my woman
miyelo ca kola - I am friend
moksins – leather boots
na - and
nacacijin - loyal/faithful
nagi'tanka – The Force
najin - stand/standing
napa lute - red hand
nimitawa ktelo - you will be mine
nita - yours
nitu'we he? - who are you?
niyaha - feather
nunpi - two
ocheti - seven
ocheti shakowin - 7 Sacred campfires of the Elders
ohan! - yes!
ohinyan - forever
ohitika - brave/courageous
ohunko - false/untrue
okute - shooter
on'shimala ye - pity me
on'sila - poor thing
oo'oohey - it is time
oosni - cold
owa - wound
owa sicha - bad wound
owanka - floor
owanka wakan - sacred altar
owatamla - straight tongue
owayyeke wasse - everything is good for the eyes
ozuye - warrior
paha - butte/mountain
Paha Sapa – Black Hills
pahaska - long hair
pe'jula - medicine
pe'jula sapa - coffee/black medicine
pe'jula wacasa - medicine man
peta – stone
pila'maya - thank you
pila'mita - my thanks
piskin - corral
pte - buffalo cow
schila - old
she - three
sheo - sage
shesh - six
Shi'aad – mate (female)
Shils aash - my friend
shinte - tail
shunkaha - wolf
sicha – bad
siha -foot
sit'omni - all over
siyo'tanka - flute made of wood with a long neck and heard of a bird
ska - white
skan - sky
Ski'kaa – mate (man)
sku'yela - sweet
sosho - snake
sota - many
sun'kaku - younger brother
Native Animals of Dathomir