Light Whip: Product Information



Model

Dathomiri Lightwhip

Type

Lightwhip

Culture

Dathomir

Creator

TiCira Hawk

Owners

TiCira Hawk

Crystal

PermaFrost

Blade Color

Icy Blue
Physical and Technical Specifications

Hilt shape

Curved

Hilt length

8 inches

Blade length

3 meters

Hilt components

Mandalorian iron (beskar)

Special Modifications

Bifurcating cyclical-ignition pulse
Beskar whipshaft to use as a regular whip
Dead-mans pressure plate
Lightsaber : Product Information



Model

Jai Shoto

Type

Lightsaber, Shoto

Culture

Dathomir

Creator

TiCira Hawk

Owners

TiCira Hawk

Crystal

Durindfire

Blade Color

Silver
Physical and Technical Specifications

Hilt shape

Curved

Hilt length

7 inches

Blade length

20 inches

Hilt components

Mandalorian iron (beskar)

Special Modifications

Bifurcating cyclical-ignition pulse
Ossus Dueling lens
Dead-mans pressure plate
"…Biting metal and stinging light…"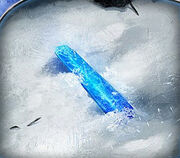 TiCira Hawk's Lightwhip is a unique lightweapon that combines that produced beams of pliant energy in conjunction with physical matter. A lightwhip, also known as an energy whip or a laser whip, was a rare variation of the lightsaber. Lightwhips generally functioned on the same principles and mechanics as lightsabers, emitting a coherent beam of energy that was used as a weapon. However, rather than the straight, meter long blades emitted by standard lightsabers, TiCira's lightwhip featured long, flexible whipshaft with notched groves that emited that reached three meters in length.

TiCira Hawk's Shoto is a lightsaber with a shorter hilt that produced a drastically shorter blade than its more common counterparts. TiCira used her shoto in combat with a blend of the Makashi and Niman forms she uses alongside with lightwhip combat, an exotic fighting style designed specifically for the use of lightwhips to create her own unique form of duel wielding shoto and whip form.
It took months to collect the components needed to make both of the lightweapons. A two month search for a Mandalorian blacksmith to create the whipshaft and the hilts out of Mandalorian iron to her specific designs.
The Crystals
Edit
The main focusing crystal for her lightwhip is Permafrost, encasing the Mandalorian Iron whipshaft in an icy blue hue when activated. For her Shoto, TiCira used a Durindfire gem, giving the miniaturized lightsaber its distinctive silver hue.
Specifications
Edit
Both of her lightweapons have many modifications all planned for maximum effectiveness and to be the perfect weapon in terms of reliability and versatility.
Permafrost Lightwhip - A product of her own design, it has a one of a kind curved hilt and three meter whipshaft notched whipshaft forged from Mandalorian Iron, allowing her to use it as a normal whip when not ignited. It uses Permafrost as the primary focusing crystal, producing a deep, icy blue whipshaft.
Shoto Lightsaber- A miniaturized lightsaber, it featured a shortened blade length and a curved hilt. TiCira made use of a shoto as the secondary weapon in her duel weilding lightwhip/lightsaber form. It's smaller blade length resulted in a less intensive gyroscopic effect, making the weapon easier for her to handle and helped her defend herself when using the whip in the other hand.
Durability
Edit
The inner parts and outer casing are made of Mandalorian Iron (beskar), a metal that when manufactured was virtually indestructable, her lightwhip's hilts are resistant to another lightsaber blade to prevent the destruction of her weapon.
Waterproof
Edit
Each weapon holds two crystals that take advantage of a Bifurcating cyclical-ignition pulse, a pulse that allowed the Lightsaber to activate underwater. Her lightwhip uses a Velmorite and Hurrikaine combination, while her shoto uses two small Krayt dragon pearls.
Dead-man's Pressure Plate
Edit
Usedas a safety and located on the hilts grip, this device allows both her lightwhip and her shoto to shut off should they fall from her hand.